Wilhelmshaven freight service launched
DE: Tx Logistik Ag has launched a new hinterland rail freight connection between Wilhelmshaven and southern Germany.
Since mid-January, the rail logistics company – part of Mercitalia Logistics, a wholly owned subsidiary of the Italian state railway – has been running one round trip per week between the Jade-Weser Port in northern Germany and rail terminals in Nuremberg and Kornwestheim.
Both routes are operated as direct connections and offered via the boxXpress production platform, which specializes in container trains from the North Sea ports.
The destinations are the Tricon container terminal in Nuremberg and the Duss Kombiterminal in Kornwestheim, which is a hub for the Stuttgart/Ludwigsburg area.
With these new connections, TX Logistik can offer additional capacity for container transport by rail. The integration of the Jade-Weser Port in Wilhelmshaven into the network is at the same time an important step for TX, which hopes to benefit from the forecasted volume growth at the Jade-Weser Port.
As Germany's only deep-water port, Wilhelmshaven is increasingly the destination of ever-larger container vessels and is already served by eight shipping companies on a scheduled basis.
TX Logistik, founded in 1999 as a private rail transport company, maintains a European network with connections in eleven countries.
The company has subsidiaries in Switzerland, Austria, Denmark and Sweden as well as a local office in Italy. The company, with 8.6 billion tonne-kilometres, generated annual sales of €253m in 2021.
TX Logistik is also planning to add more connections between Wilhelmshaven and terminals in the hinterland by rail in the first half of this year.
Operail sells more wagons from its lease fleet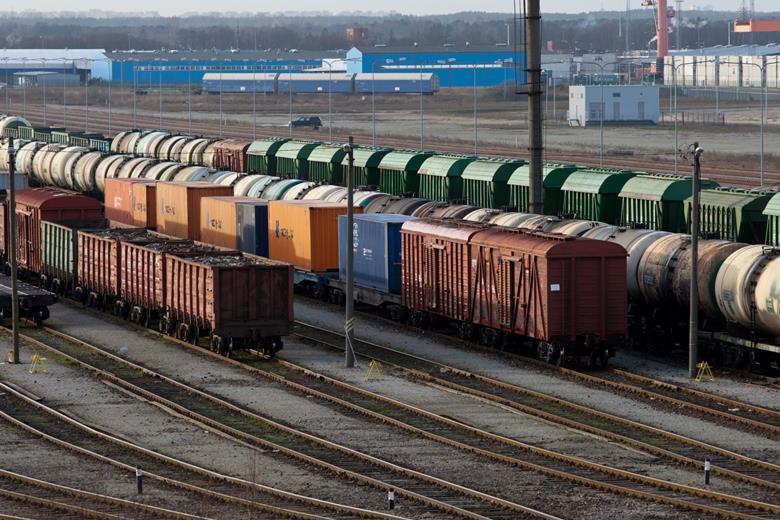 EE: National freight operator Operail has sold a further 807 wagons from its lease fleet for €22·1m as part of a programme of divestment of non-core assets.
More than 40 companies were invited to participate and 20 tenders were submitted.
After what Operail said was a 'long and tense sales process', two subsidiaries of Kazakh logistics group ATASU purchased a total of 410 wagons in late December, while in mid-January Estonian wagon rental company Skinest Rail bought 397.
The majority are leased to European companies and used in Kazakhstan, Tajikistan, Mongolia and the Baltic states; Operail said none has been leased to Russia.
The latest sales follow the purchase of 522 Operail wagons located in Ukraine by Fortior Capital and Teslar Trans; the €6·51m price was influenced by the war which has made it difficult to move the wagons out of the country.
Negotiations are underway for the sale of its remaining wagons.
What is now Operail began offering 1 520 mm gauge wagons for lease in 2001. The business was expanded when Russian transit traffic reduced following riots trigged by the relocation of a Soviet war memorial in Tallinn in 2007.
'Freight transport as an independent business line was no longer feasible', said Operail Chairman Raul Toomsalu when the latest sales were announced on January 25. 'As freight transport is strategically important for the state, we had to find ways to survive from the economic perspective. We sought alternative sources of income until we would be able to optimise and reform freight transport in Estonia.
'The media has painted a picture of renting wagons being a "Russian business" for Operail. This is not true, the business was launched for the opposite reason — to reduce the dependence of the transit of goods from Russia.'
Operail said wagon leasing had generated 99% of its profit in the past six years, but the government decided to exit the business as it is not of strategic importance and there is a thriving free market.
DB Regio awarded Rheine – Löhne operating contract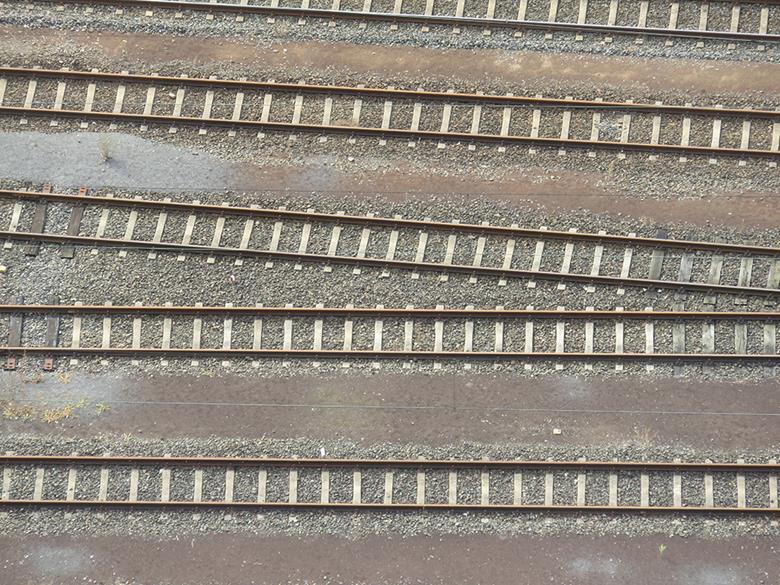 DE: DB Regio has been selected to operate new regional express service RE62 Rheine – Osnabrück – Löhne for seven years from December 2023.
The service running every 2 h is being commissioned by Neidersachsen transport authority LNVG and Westfalen-Lippe authority NWL to retain an hourly service between Rheine, Osnabrück and Hannover when changes to the timings of Berlin – Amsterdam long-distance services impact on regional services.
The contract covers 0·6 million train-km year. DB Regio will provide six Class 440 Alstom Coradia Continental electric multiple-units which were built in 2009-10 and have been used in Bayern. The modernised trains will have passenger information displays, free wi-fi, CCTV, air-conditioning and folding ramps for wheelchair users.
'DB Regio has made a convincing offer, we expect the company to prove its efficiency in day-to-day operations', said LNVG spokesperson Carmen Schwabl on January 18.
Long Island Rail Road opens its Grand Central Madison hub in New York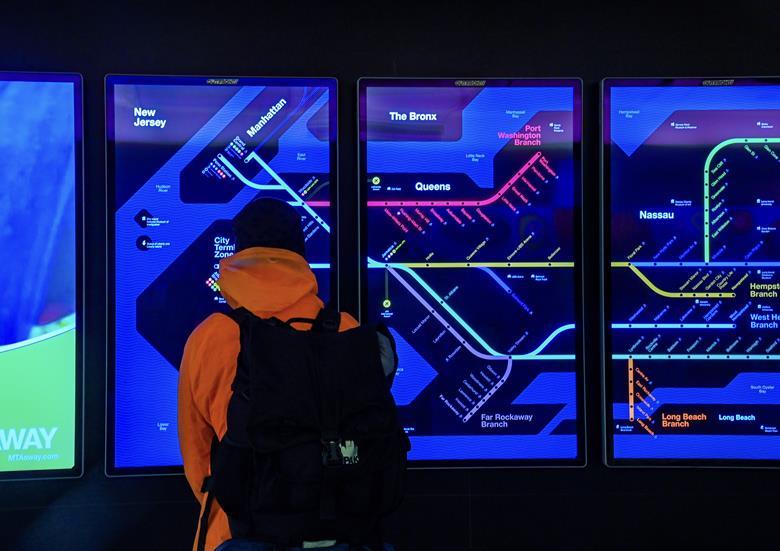 US: Long Island Rail Road opened its Grand Central Madison deep-level station beneath New York's famous Grand Central Terminal on January 25. The first train to reach the station left LIRR's Jamaica hub in Queens at 10.45 and arrived at 11.07.
Grand Central Madison is the centrepiece of the long-running $11bn East Side Access programme, aimed at improving access to Midtown Manhattan for LIRR passengers; the New York Metropolitan Transportation Authority commuter rail agency took over management of the station site from MTA Construction & Development on December 11.
LIRR is initially operating a standalone shuttle service between Grand Central Madison and Jamaica while the newly completed infrastructure beds in; through services to the rest of Long Island are expected to start in the coming weeks.
Covering 7 ha in total, Grand Central Madison reaches 15 storeys below the historic main concourse at GCT, which is served by MTA's other commuter rail agency, Metro-North. A new passenger concourse has been built just below street level to serve the LIRR station. According to MTA, this is the largest passenger facility to be built in the USA since the mid-1950s. From this concourse, no fewer than 17 escalators, each 55 m long, and 22 lifts will take passengers to and from a mezzanine level far below, from where they will access the upper and lower 'train decks'.
These house eight platform faces in two adjacent twin-deck caverns, giving the capacity to handle up to 24 trains/h at peak times. In total, the project has required 5∙6 route-km of new alignment, electrified at 750 V DC using a third rail. The route incorporates two single-track tubes beneath the East River that were built in the 1960s in conjunction with a Subway expansion project but never fitted out.
Construction of the caverns began in 2006, but the ESA programme was beset by construction challenges and delays, partly caused by difficult ground conditions beneath the city centre. These required extensive use of drill and blast excavation.
Other key elements of ESA have included the construction of turnback tracks south of Grand Central Madison beneath 37th Street, and a Midday Storage Yard at Sunnyside in Queens with capacity to stable around 300 EMU cars. Programme manager was URS Corp, supported by Lead Tunnel & Station Contractor Dragados USA-Judlau.
Alongside the completion of a triple-tracking programme on Long Island itself, ESA is expected to increase LIRR capacity by around 40%, MTA says. In addition, capacity released by LIRR at Penn Station is to be used to allow Metro-North trains to serve the hub under the Penn Station Access programme, for which a groundbreaking ceremony was held on December 9. This will see four intermediate stations built on Amtrak's Hell Gate line to serve communities in the Bronx.
'Grand Central Madison is a game changer for New Yorkers, and I look forward to welcoming Long Island commuters to our tremendous new terminal', said New York State Governor Kathy Hochul after she alighted from the inaugural train. 'Infrastructure is all about connections, and this project is an extraordinary step forward to better connect millions of New Yorkers with their homes, their families and their jobs.'
'What we are opening today is truly breathtaking', added MTA Chair & CEO Janno Lieber. 'The eight tracks, four platforms and 66 000 m2 of space at Grand Central Madison are only the most visible part of a project that also includes 64 km of new track, 96 new switches, 880 km of cables, 2 500 m of retaining walls, five new railroad bridges, 296 new catenary poles and 51 signal towers. Together with the successful Third Track project and L Train rehab, what was accomplished since the 2018 overhaul of East Side Access proves the MTA is a megaproject leader.'
Cairngorm Mountain Railway to reopen
GB: Cairngorm Mountain Scotland (CMS) will welcome the return of Scotland's mountain railway to full operation tomorrow, 26 January.
Following significant engineering works and testing, the UK Department of Transport (DFT) has issued safety certificates enabling CMS to bring the railway back into service. 
The 2km line will now run a regular service taking snowsports enthusiasts to the top of the slopes of Cairngorm Mountain in around five minutes. The reinstatement of the railway comes alongside other major improvement works including new 'magic carpet' conveyor belts for the beginner slopes, car park improvements, and the refurbishment of the Ptarmigan building.
The Cairngorm Mountain Railway is Scotland's only funicular railway and is the highest in the UK, reaching over 1,065m above sea level. The reinstatement works involved a complex engineering project to strengthen the viaduct and install a new control system, all within the strict environmental requirements of a unique mountain environment.
Susan Smith, CEO of CMS, said: "The Cairngorm Mountain team is thrilled to be welcoming snowsports enthusiasts onto the funicular railway once more. The improvements across the resort have brought major changes to the visitor experience and we are so pleased to see the railway transport people to the upper slopes."
Owned by Highlands and Islands Enterprise (HIE) and operated by the Cairngorm Mountain team, the resort is one of Scotland's iconic locations and the railway makes the mountain environment accessible not only for snowsports enthusiasts but to visitors of all ages and abilities in every season of the year.
"It's wonderful to see the mountain railway back in action again. This will make a huge improvement to the customer experience at Cairngorm and strengthen the appeal of the wider area to attract visitors throughout the year," added Dave Macleod, head of property and infrastructure at HIE.
"Reinstating the funicular has been uniquely challenging, not only in engineering terms but also for the care that had to be taken to protect the environment during these works while also contending with some of the most severe and changeable weather that Scotland has to offer."
The Cairngorm Mountain Railway service stopped running in September 2018 due to safety concerns.
Pakistan passenger train derails after powerful bomb blast
PK: A passenger train in Pakistan derailed after a bomb blast, leaving at least 15 passengers injured.
The bomb exploded when the Jaffar Express passenger train was passing through the Bolan district in the southwestern Pakistani province of Balochistan.
According to a local official, the train engine and eight train cars were derailed due to the bomb blast.
The train was travelling to Peshawar, the capital of the north-western province Khyber Pakhtunkhwa, Aljazeera reported.
Bolan district deputy commissioner Agha Samiullah was quoted by the news organisation as saying: "We have shifted those with minor injuries to the Civil-Military Hospital in nearby city of Sibi, while the two gravely injured people were sent to Quetta.
"The rescue operation would be completed soon and expressed hope that the railway track will be operational later at night. We are sending the passengers to Quetta city by bus."
Engineers are said to have initiated repairs to the damaged rail tracks at the site.
The separatist Baluchistan Liberation Army has claimed responsibility for the attack, The Washington Post reported.
Azad Baloch, a spokesman for the group was quoted by the publication as saying: "Their fighters targeted security forces traveling by train to the garrison city of Rawalpindi in eastern Punjab province."
However, government and military officials did not immediately comment on the claims made by the separatist group.
Skoda Transtech supplies night travel rolling stock to Finlands VR
FI: Skoda Transtech Oy has secured a €50m order to deliver sleeper and car-carrier coaches to Finnish state-owned railway company VR.
In an initial step, Škoda Transtech will supply nine sleeper coaches as well as eight car-carrier coaches.
It also has the provision to provide another 30 sleeper and 30 car-carrier coaches later.
The coaches will be manufactured at the firm's factory in Otanmäki, Kajaani in Finland.
They will replace the aging blue sleeper coaches, whose service lives will expire in the early 2030s.
Škoda Transtech CEO Juha Vierros said: "This deal will strengthen the order book of our Otanmäki factory and maintain the region's vitality and competitiveness."
Purchase of these coaches is aimed at coping up with the rising demand for night train travel and is expected to help increase the number of future night train services or routes.
The new rolling stock will be in use by 2025-end, on overnight rail routes from Helsinki, Turku and Tampere to Oulu, Rovaniemi, Kemijärvi, and Kolari.
VR CEO Elisa Markula said: "We are pleased to note that the popularity of night train travel has grown by 17 per cent, compared to 2018. With these new coaches, we want to meet the wishes of our customers and further develop the travel experience."
At present, VR has 80 sleeper coaches and 33 car-carrier coaches in its night fleet.
The firm, which has a contract with Finland's Ministry of Transport and Communications for night train traffic, will fund the procurement itself.
As specified in the contract, the Ministry of Transport and Communications will compensate the firm for part of the procurement expenses.
European Commission investigates state aid to Fret SNCF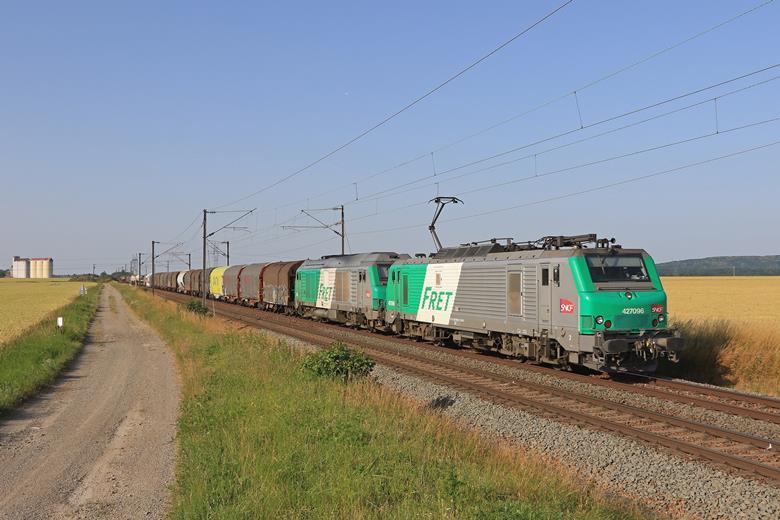 FR: The European Commission has begun a detailed investigation into measures taken by the French government in 2007-19 to provide financial support to Fret SNCF, the rail freight subsidiary of Rail Logistics Europe, itself a subsidiary of national operator SNCF.
The objective is to determine whether or not the measures gave Fret SNCF an economic advantage over its competitors and specifically if the measures met the requirements set out in the European Union's regulations on state aid.
Throughout the period under investigation Fret SNCF made a loss. This was covered by payments from parent company SNCF SA by means of intra-group cash advances that constituted public resources because of state ownership and control.
Announced on January 18, the investigation will examine three specific measures taken by the French government to determine if they were compatible with the applicable rules.
First were cash payments totalling €4bn to €4∙3bn made by the French government to Fret SNCF from early 2007 at least until its conversion into a commercial business with effect from January 1 2020.
Second was the cancellation in 2019 of Fret SNCF's debts amounting to €5∙3bn, including the state-funded cash payments, when the company was converted to a commercial business.
Third was an injection of €170m of capital when Fret SNCF was converted to a commercial business.
The European Commission said that 'interventions by public authorities in favour of companies may be considered as not constituting state aid if they are made under conditions that a market-oriented private business would have accepted'. If this principle is not respected, such interventions constitute a form of state aid as specified in Article 107 of the Treaty on Functioning of the European Union as they provide the beneficiary with an economic advantage over its competitors.
In response, the French government said that it was 'fully mobilised to provide all the relevant elements to the European Commission within the framework of this procedure, which it is approaching in a co-operative and determined spirit'. It noted that SNCF Group helped to maintain rail freight in France at a time when it was facing more competition.
The government also drew attention to its rail freight recovery plan that was designed to support rail as an environmentally friendly means of freight transport. This support, it noted, 'is part of the European Commission's Green Deal, with the ambition of doubling rail freight's market share by 2030'.
French Transport Minister Clément Beaune said that 'given the reforms and efforts undertaken, the government is approaching this procedure with confidence. We are more than ever determined to guarantee and develop the position of rail freight in France.'
Northern unveils Intelligent Train for in-service infrastructure monitoring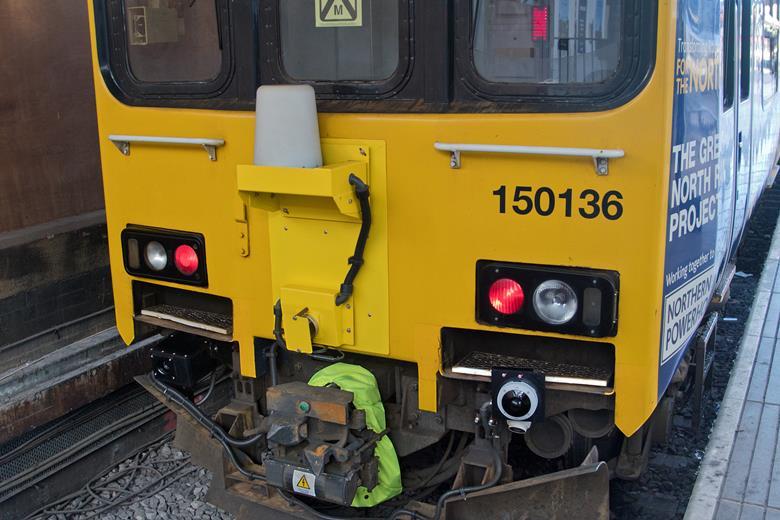 UK: Rail Business UK joins a demonstration run of a diesel multiple-unit which has been equipped to undertake infrastructure monitoring while in passenger service.
An 'Intelligent Train' concept demonstrator has been developed by Northern in partnership with Network Rail to facilitate detailed real-time infrastructure monitoring using trains in regular passenger service.
A demonstration trip between Manchester Victoria and Bradford Interchange on January 16 was used to showcase the radar, lidar, thermal, acoustic and bogie vibration monitoring sensors and cameras with intelligent machine vision technology which have been fitted to Class 150 diesel multiple-unit 150 136.
The sensors enable infrastructure monitoring in the dark, including in tunnels and in fog where a normal CCTV camera may not be able to 'see'.
The data collected can be accessed remotely. Work is underway is to understand how to use the vast amount of data which is being collected, discarding any that is not needed and focusing on information that allows problems to be identified and resolved.
The aim is to monitor the condition of assets in real time and identify trends such as embankment slippage or any movement of lineside equipment such as signals or electrification masts.
This would enable Network Rail to reduce its dependence on specialist monitoring trains. A future widespread roll-out of the technology would increase the frequency of monitoring and, it is hoped, enable interventions to be made before any failures.
The concept train was modified by Northern in conjunction with Belvoir Rail which led technology integration, Modux which created the data transfer and processing software, Yellow Rail which installed the equipment and provided technical support, and DG8 which led the design and worked with Belvoir Rail to ensure all equipment complies with railway standards.
A planned second concept train would use an EMU fitted with additional equipment to monitor the pantograph and overhead electrification equipment.
Speaking onboard the demonstration run, Northern's On-Trains System Manager Marc Silverwood told Rail Business UK that the concept train is the latest step in the operator's digitalisation programme, which began with the fitting of wi-fi and CCTV.
'We are no longer going to be "firefighting" incidents and issues that we may face; we can log in remotely and start to "trend" the network', he said, with monitoring being undertaken 'little and often rather than in a big bang'.
This 'will allow us to see what the norm looks like for every piece of track in the Northern estate, which is over 3 000 km, and gradually see the change in vegetation, slight embankment movements and also the interaction between stanchions and the railhead'.
The technology will also assist in the removal of emergency speed restrictions more quickly, and help monitor the progress of major projects such as the Transpennine Route Upgrade.
RENFE starts tests before relaunching cross-border high speed services to France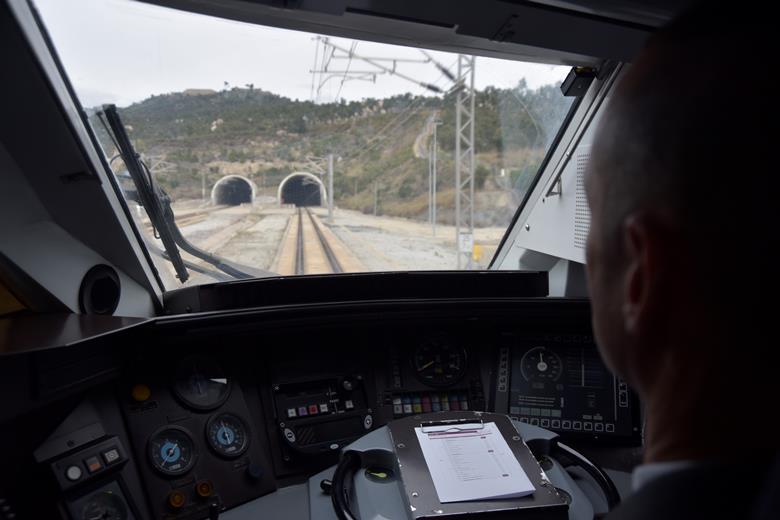 EU: Spanish national operator RENFE undertook a test run between Barcelona Sants and Lyon Part-Dieu on January 16 as part of preparations to revive international inter-city services between Madrid, Barcelona, Lyon and Marseille, which ceased in December last year.
Madrid – Marseille and Barcelona – Lyon services had been operated since 2013 using RENFE's Alsthom-built S100 high speed trainsets as part of the RENFE-SNCF en Cooperación joint venture with French incumbent SNCF, which used its own TGV Duplex trains to operate between Paris and Barcelona.
However, when liberalisation of the Spanish passenger market saw SNCF launch services under its Ouigo brand to compete with RENFE domestically, the international co-operation initiative looked increasingly anomalous, and it was formally dissolved in December 2021. Explaining the decision, SNCF said those trains run by RENFE had been losing up to €10m per year.
SNCF was able to maintain its Paris – Barcelona TGV service independently using a small set of six trainsets modified for use in Spain and with Ouigo España's safety case, which covers the whole of the national 1 435 mm gauge network. SNCF is currently running two trains per day between the French capital and Barcelona, and expects to add a third daily return journey in mid-2023.
Announcing its plans to relaunch services in France on its own, RENFE said in a statement on January 16 that French safety regulator EPSF had placed 'a multitude of requirements' on the Spanish operator which do not apply to SNCF's operations in Spain. The safety authorisation approved by EPSF and the EU Agency for Railways on December 22 only allows RENFE to run on the routes from Perpignan to Lyon and Marseille, it said.
RENFE made clear that it intends to apply for approval to run across the whole network in the future as part of its long-standing ambitions to expand as the French market also liberalises.
The Spanish incumbent reported that it is continuing to train drivers and operational teams to support the relaunched services. A phased reintroduction is planned over the summer, with RENFE eventually aiming to run 28 trains per day on the two cross-border routes.
It will continue to use its fleet of 10 S100 trainsets for these services. Based on a French TGV design, these were refurbished in 2011 by Alstom at Belfort, modified for use with France's 1·5 kV DC power supply, and equipped with ETCS.
Siemens Mobility secures €3bn locomotive contract in India
IN: Siemens Mobility has obtained its single largest-ever locomotive contract with a €3bn order from Indian Railways to deliver 1,200 electric freight locomotives.
This contract will see the firm, which is a separately managed company of Siemens, designing, manufacturing, commissioning and trialling the locomotives. 
The order also covers 35 years of full-service maintenance, with deliveries expected over a period of 11 years.
Siemens Mobility CEO Michael Peter said: "These new locomotives will help increase freight transport on one of the world's largest rail networks, as they can replace between 500,000 to 800,000 trucks over their lifecycle. This historic order cements a firm commitment from Indian Railways to achieve 100% electrification of rail traffic in India."
With 9,000 horsepower (HP), the locomotives are claimed to be "one of the most powerful" globally.
They will run at a top speed of 120 kmph and haul loads of 4,500 tonnes.
Besides, they will incorporate advanced propulsion systems made locally in Siemens Mobility's India factories.
The latest development comes as the Indian government looks to expand rail's share in freight transport from the existing 27% to 40-45%.
Siemens CEO Roland Busch said that the locomotives will save over 800 million tonnes of CO2 emissions over their lifecycle, helping India realise its aim of establishing the world's largest green rail network.
Assembly of the locomotives will be done in Indian Railways' Dahod factory in the state of Gujarat.
Maintenance work will be carried out in the Indian Railways depots in Pune, Vishakhapatnam, Kharagpur, as well as Raipur.
Meanwhile, in other recent India developments, Siemens launched a new rail bogie production facility in the state of Maharashtra.
Earlier in 2022, the firm placed the lowest bid for electrification on Chennai Metro Rail's (CMRL) Poonamallee and Light House section in Tamil Nadu, India.
China-Hong Kong high-speed rail link reopens after three years
CH: The 26km high-speed rail service between Hong Kong and mainland China has resumed following a hiatus of almost three years induced by the Covid-19 pandemic.
Nearly 80 trains will operate daily along the route, reducing journey time from Hong Kong to Guangzhou from two hours to 47 minutes, according to CNN.
The latest move comes after the resumption of quarantine-free travel between Hong Kong and the Chinese mainland on 8 January of this year. 
The Guangzhou-Shenzhen-Hong Kong Express Rail Link was in operations for around 16 months.
It shuttered in January 2020 as a result of the Covid-19 crisis.
In a Facebook post seen by the South China Morning Post, Hong Kong CEO John Lee Ka-chiu said: "I am grateful to the central government for its support to Hong Kong, and the Guangdong and Shenzhen municipal governments for their ongoing coordination.
"My team and I will continue to work hard and closely with relevant mainland authorities to achieve a full resumption of traveller clearance."
Tickets each way have been capped at 5,000 daily.
Hong Kong travellers can buy train tickets to stations in Shenzhen, Dongguan and Guangzhou, in the Guangdong province, reported China Daily.
China Railway Guangzhou Group will provide an average of 38.5 pairs of high-speed trains on a daily basis from Guangzhou as well as Shenzhen stations to West Kowloon Station in Hong Kong, the publication stated.
In an initial step, West Kowloon Station will offer trains to Shenzhen's Futian, Shenzhen North along with Guangzhou South and Guangzhou East stations.
Cross-border rail travellers have to present a negative COVID-19 nucleic acid test done within 48 hours of travelling.
Commuters are required to wear a mask during the train journey, noted transport operator MTR.
Stadler ETCS to equip DB maintenance vehicles
CH: Stadler Rail has secured a contract to provide its Guardia ETCS (European Train Control System) for retrofitting up to 80 DB Netz vehicles.
DB Netz is a subsidiary of German state-owned rail company Deutsche Bahn (DB).
Initially, the system's latest version ETCS Baseline 3.6.0 will be used in eight maintenance and track service vehicles in the 711.1 and 741.X series.
These vehicles will run on the DB Netz networks in Germany and Switzerland from 2024.
According to Stadler, ETCS Baseline 3.6.0 offers more operative functions than older ETCS versions, which can save time as well as improve efficiency and safety aspect of the vehicles.
The contract, which Stadler received in a Europe-wide tender, also has a provision for an additional 72 vehicles.
This marks the first large scale deployment of the Guardia train control system, which Stadler developed in-house, in DB's maintenance sector.
Stadler head of the Signalling Division Marc Trippel said: "This decision reflects the trust in Stadler's GUARDIA ETCS solution that was built during the pilot project.
"By retrofitting the infrastructure-relevant maintenance and track service vehicles, we are making an important contribution to digitalising the German rail network."
Previously, Guardia has equipped the DB Advanced Train Lab and two BR 185.2 type locomotives.
The Baseline 3.6.0 version has already got the nod for use in Germany and The Netherlands.
Stadler has reached several contracts with DB in recent times.
In October last year, DB transformed Berlin's S8 line by deploying next-generation trains developed and built by Stadler Germany and Siemens Mobility.
Earlier in 2022, Stadler received a contract for its FLIRT Akku trains from DB Regio, a DB subsidiary.
Demand for free rail passes in Spain shows no sign of slowing down
ES: Following the extension of the programme to issue free train passes for the Cercanías, Rodalies and Media Distancia trains, Renfe has already issued more 1 million free subscriptions since January 1, the operator has announced.
The means demand has accelerated compared to the previous programme, which began in late August of last year. This year, three quarters of the free train passes issued are for the Cercanías and Rodalies services, with the medium-distance trains accounting for the remainder. The free multi-journey subscriptions are valid until April 30.
On top of that, Renfe issued 11,684 tickets for the Avant and high-speed AVE trains in the first 12 days of the year. These services are not a part of the programme, but a 50-per cent discount is available if travel time is less than 100 minutes. Passes are currently available for lines such as Ourense-A Coruña, Madrid-Salamanca and Murcia-Alicante. On January 23, another 13 high-speed medium-distance journeys will be added to the Avant Passes, as they have become Public Service Obligations.
At the end of the year, Renfe announced that it had issued close to 2.5 million free subscriptions in the final four months of 2022. Passes for the medium-distance services had a share of 28.4 per cent at the time, compared to 25.2 at present.
Hydrogen distribution by rail to be studied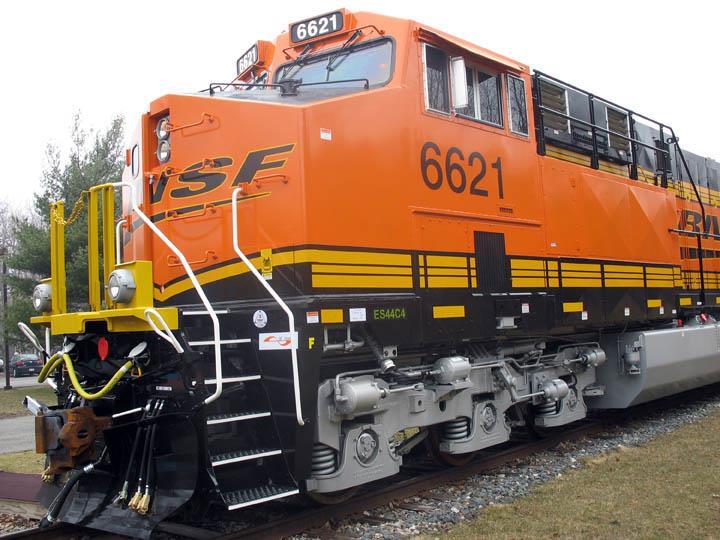 US: The role of railways as consumers and transporters of hydrogen is to be studied by BNSF and Bakken Energy, which is working on the Heartland Hydrogen Hub proposal to develop a facility to produce hydrogen from natural gas.
'Railways could play a critical role in distributing our clean hydrogen production, and could also be consumers as trains transition from diesel', said Bakken Energy Founder and Chairman Steve Lebow on January 4 after the signing on a memorandum of understanding with BNSF. He said BNSF was 'the ideal partner to work out the role of railways in our Heartland Hydrogen Hub'.
The Heartland Hydrogen Hub proposal is being developed by the states of Minnesota, Montana, North Dakota and Wisconsin, and the partners are to bid for funding from the federal Department of Energy's $7bn Regional Clean Hydrogen Hubs programme which was announced in September.
'Part of the equation is production, but the other part is distribution and that's where BNSF will be invaluable', said Bakken Energy CEO Mike Hopkins. 'Being able to transport our hydrogen by rail would dramatically reduce our distribution costs and therefore the cost to consumers.'
DB introducing new display system to make travel more convenient for passengers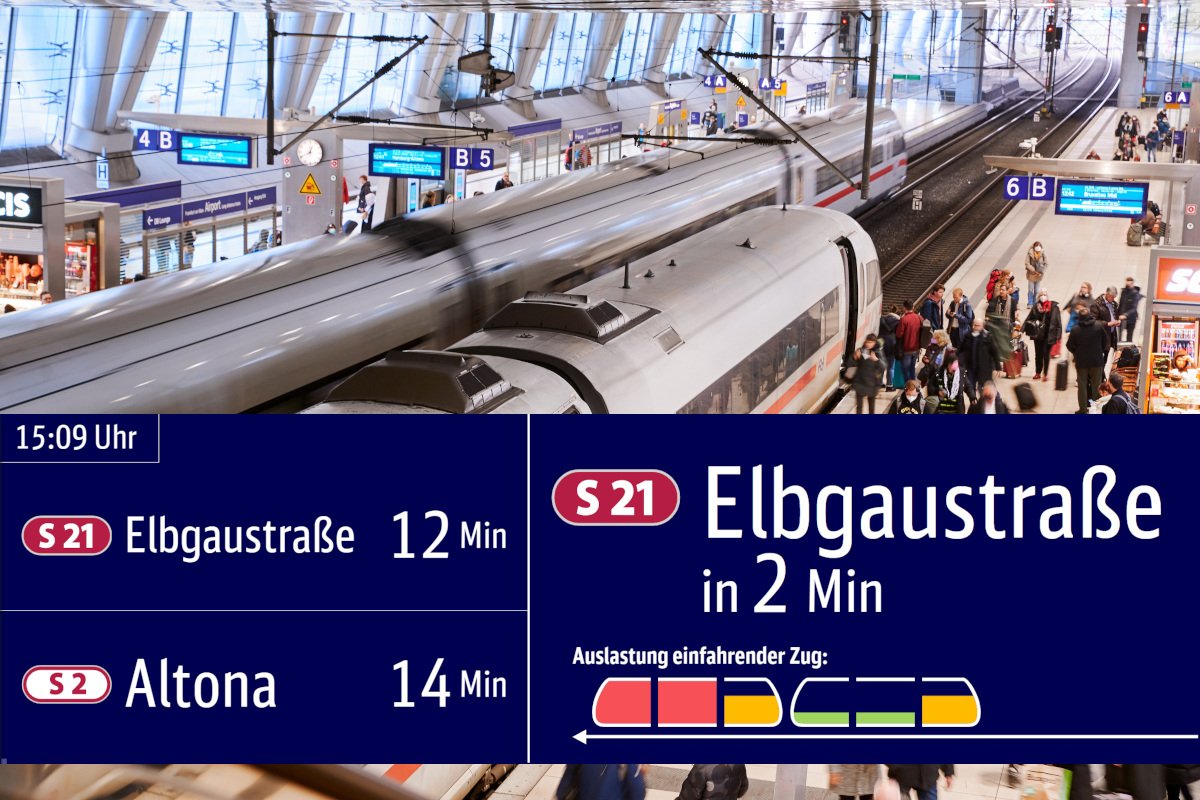 DE: Deutsche Bahn (DB) are introducing real-time capacity utilisation displays to help passengers on their journeys. The display system, which will gradually go live over the next few months, will pass information on capacity directly to passengers on the platform, on the vehicle and via app. This means that customers can find a seat more quickly and rail operations become more efficient. If travellers deliberately board carriages that are not occupied, trains will be able to depart more punctually. This will, in turn, enable better use of the capacities in the rail network.
The display system
The occupancy display on the platform takes place in a three-stage traffic light logic or in person pictograms for the respective cars. In this way, customers can see where they can position themselves in order to better find a wagon with free seats.
"With the intelligent occupancy display, we are making our passengers' everyday lives noticeably better," Dr. Daniela Gerd tom Markotten, Board Member for Digitisation and Technology at DB, said. "We can only get more people excited about climate-friendly rail if local transport is convenient and reliable."
Delays in boarding and disembarking are the main reasons for overruns and subsequent delays. With this new system, passengers are better distributed on the platform and trains can depart more punctually. In addition, the occupancy display via app helps travellers to choose less crowded trains for their journey. The new system also brings advantages for operations: the transparency of passenger flows and the utilisation of trains will enable dispatchers to better coordinate train traffic in the future.
Depending on the vehicle type, the number of passengers is measured using various technical approaches. For example, counters are used in the door area or light sensors that scan the load in the passing wagons. The system processes the data in a matter of seconds and then forwards it to travellers as occupancy information.
Rolling out the system
The displays will first be used on pilot routes of the Hamburg S-Bahn and the Stuttgart S-Bahn network. Regional traffic between Hamburg and Lübeck is scheduled to start in February 2023. In the Rhine-Main area, DB will introduce the system across the entire S-Bahn network from April. In Berlin, the rollout will begin in May on the Stadtbahn route between the Jannowitzbrücke and Zoologischer Garten stations and will then be gradually expanded. By the end of 2024, more than 1,500 DB Regio wagons, a quarter of all DB trains in regional transport, will be able to display the occupancy rate across Germany
Alstom awarded £12 million overhaul contract for ScotRail trains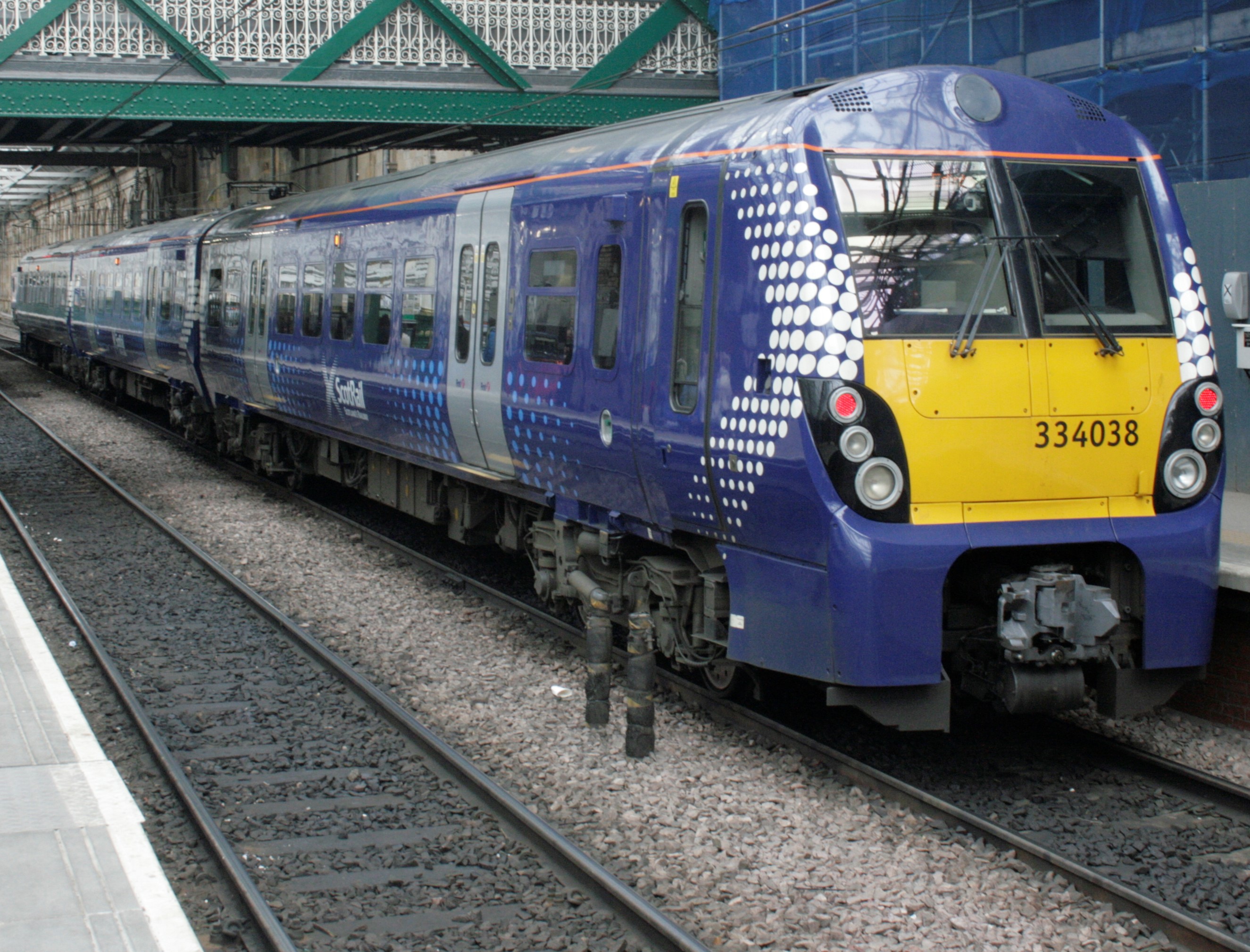 UK: Alstom has been awarded a £12 million contract to carry out mileage-based modernisation on ScotRail's Class 334 fleet of 40 trains that serve the Edinburgh to Glasgow line. The contract was placed by Eversholt Rail who lease the trains to ScotRail. The Class 334 trains were originally built by Alstom for ScotRail and entered service in 2001.
The modernisation work
The scope of work under the new contract includes the overhaul of pneumatic and electrical components such as auto couplers, gangways, batteries, underframe air valves, toilets and heating ventilation and air-conditioning (HVAC) in the drivers' cabs.
This work builds on the previous modernisation performed by Alstom from 2015 to upgrade the passenger experience for Scottish passengers, by retrofitting full air conditioning, at-seat charging points and wi-fi throughout the trains as well as adding CCTV for driver only trains to help with passenger security.
"Alstom has a proud history of supporting Scotland's rail network," Peter Broadley, Managing Director of Services at Alstom UK & Ireland, said. "We're pleased to once again be able to overhaul the Class 334 fleet, providing ScotRail's current and future passengers on the Edinburgh to Glasgow line with an improved rail experience."
Alstom beginning the project
This new overhaul project is due to commence in January 2024 at Alstom's Polmadie Depot in Glasgow. Alstom has 109 Scottish employees based at Polmadie where the company delivers maintenance and support to the iconic West Coast Mainline Pendolino's Caledonian Sleeper, as well as day-to-day maintenance of the Class 334 trains.
Alstom is also working closely with Network Rail on the upgrading of Scotland's signalling infrastructure.
Alstom to modernise Eversholt Rail's Class 334 fleet
FR: French rolling stock manufacturer Alstom has received a £12m contract from Eversholt Rail to conduct mileage-based overhauls on its Class 334 fleet.
In January next year, Alstom will begin the modernisation of the Class 334 fleet at its Polmadie Depot.
Under the contract, the company will repair pneumatic and electrical components such as autocouplers, gangways, batteries, underframe air valves, cab HVAC and toilets.
At present, ScotRail operates 40 Class 334 trains on routes between Glasgow and Edinburgh, under a lease agreement.
Last year in October, Eversholt Rail reached a £27m agreement with Southeastern and Hitachi Rail for the modernisation of Class 395 Javelin trains.
Revamp of the first of the 29 trains will commence at Southeastern's Ashford Depot in March this year.
The project will include interior renovation, LED lighting installation, among others.
During the same month, Eversholt Rail also signed an agreement with Varamis Rail for the leasing of a Class 321 Swift Express Freight train.
Varamis will operate services from Birmingham to Scotland five nights per week.
Eversholt Rail, a Eversholt UK Rails Group member, employs around 115 professional, technical and support staff.
The company's rolling stock portfolio has 20 separate passenger fleets along with freight locomotives. Its passenger fleet has 2,899 vehicles, including 236 bi-mode and 2,182 electric vehicles.
Brightline opens two more Florida stations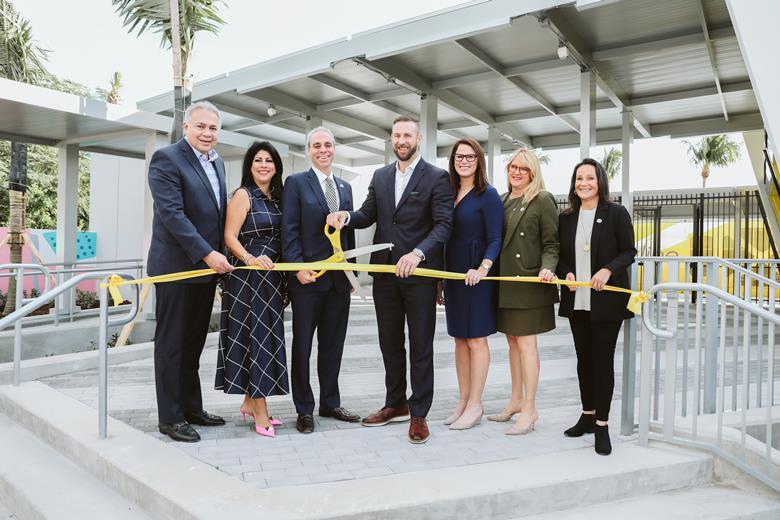 USA: Private inter-city operator Brightline added two stations to its route in Florida on December 20.
The opening of stations at Aventura and Boca Raton means that Brightline now serves five stations in southern Florida on its route between Miami Central and West Palm Beach.
Both new stations are aimed at tapping into potential commuter traffic to and from Miami city centre. Aventura can be reached in approximately 20 min from Miami, with a Boca Raton – Miami journey taking approximately 1 h. The timetable for both is focused on providing trains at peak times, Brightline says; off-peak, they will be served at 2 h intervals.
The 3 160 m2 Aventura station has 240 car parking spaces and a bus interchange served by Miami-Dade Transit. A discount travel pass offer is available for MDT pass holders. Brightline is also running a temporary complimentary road shuttle between the station and Aventura Mall pending completion of a dedicated footbridge.
Boca Raton station sits on a 0·7 ha site adjacent to the city's central library. It has a car park with capacity for 455 vehicles, and Brightline is to provide two on-demand electric vehicles for 'last mile' journeys with the downtown area. The station development has been supported by a $16·4m grant from the Federal Railroad Administration.
'Brightline is on a mission to build a better way to get there. We're connecting the state and economies making it easier to do business while expanding your backyard in so many ways', said Brightline President Patrick Goddard. 'Opening our stations in Aventura and Boca Raton is a community-wide effort that will alleviate congestion and regionalise south Florida.'
Jinhua opens second suburban rail line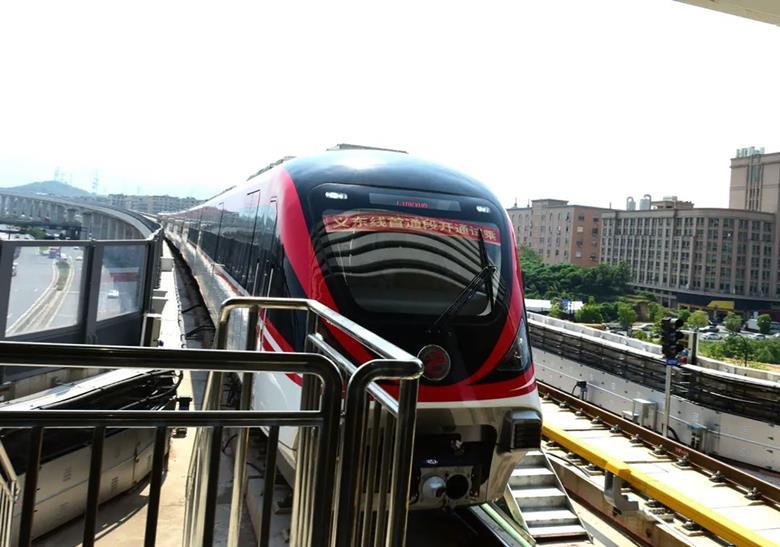 CN: The suburban rail network in the city of Jinhua expanded on December 28 with the opening of the first section of the Yidong Line in Yiwu.
The 48·4 km line is intended to augment the Jinyi Line, which opened on August 30 2022, as part of the Jinyidong Line network connecting the neighbouring towns of Jinhua and Yiwu with the Ming & Qing Dynasty Palaces at Hengdian.
The initial 27·2 km section of the Yidong Line runs through central Yiwu, from Lingyun to Sports Center; it serves 11 stations and connects with the Jinyi Line at Qintang. A short northern extension now under construction will take the line from Lingyun to Yiwu railway station, while an eastern branch will continue the route from Sports Center to the Ming & Qing Dynasty Palaces via Hengdian railway station.
When completed, the T-shaped Jinyidong Line network will total 107·2 km, serving 12 underground and 19 elevated stations. CRRC Changchun is supplying a fleet of 50 Type B trainsets which were ordered in two batches. Taking power at 1·5 kV DC from a third rail, these 120 km/h trainsets are formed of four powered and two trailer cars with interiors designed for suburban travel giving a capacity of 1 488 passengers.
All stations on the Jinyidong Line are equipped with facial recognition gates.
ŽSSK orders more RegioPanter EMUs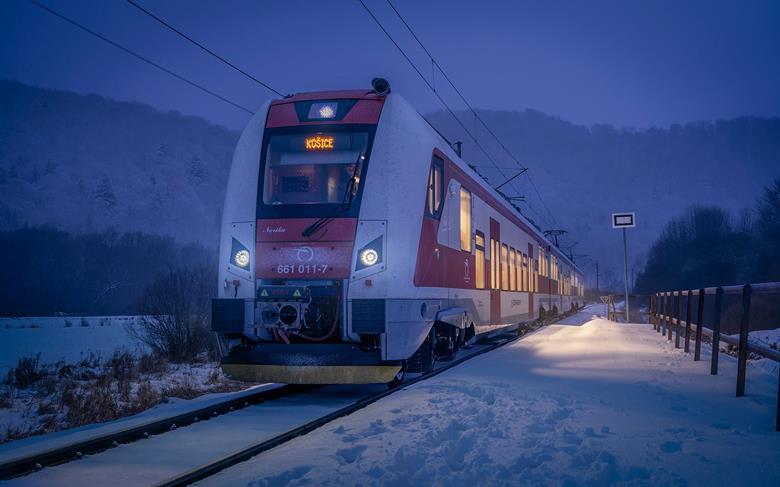 SK: National operator ŽSSK has ordered a further five four-car RegioPanter electric multiple-units from a consortium of Škoda Group and ŽOS Trnava.
The order announced on December 30 is the first which the Ministry of Transport & Construction has financed with funding from the national Recovery & Resilience Plan. It has been placed under a September 2021 agreement covering a firm order for nine EMUs and options for a further 11.
ŽSSK plans to deploy the EMUs in the Košice and Prešov regions; the five in the latest order will be delivered from 2025 and primarily used on the Čierna nad Tisou – Slovenské Nové Mesto – Košice – Prešov route. 
The 160 km/h dual-system EMUs will be equipped to use 3 kV DC and 25 kV 50 Hz electrification. They will have 343 seats, with air-conditioning, power sockets, wi-fi, audiovisual passenger information, LED lighting and multifunction areas for wheelchair users, prams and bicycles.
'The Slovak railway is modernising significantly, and we are very happy to be part of it', said Tomáš Ignačák, President of Czech and Slovak Region at Škoda Group. 'It is very important to highlight the excellent co-operation with ŽOS Trnava, with whom we are also developing co-operation on other projects outside Slovakia.
Robel MMS provides a safe environment for DB Netz track maintenance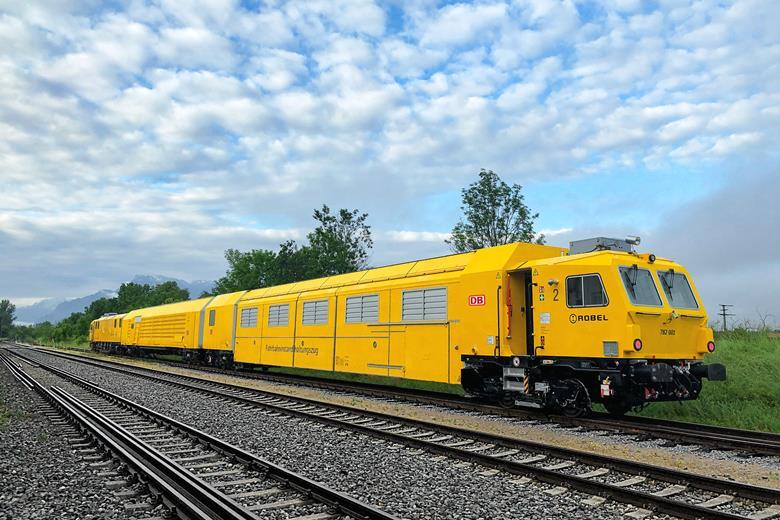 DE: Infrastructure operator DB Netz has taken delivery of the country's first Robel-built Mobile Maintenance System for use on specialist track maintenance work.
Branded by DB Netz as FIZ (Fahrbahninstandhaltungszug), the three-vehicle MMS is formed of a traction and supply unit with crew accommodation, toilet facilities and a workshop, an intermediate car for the storage, loading and unloading of material and tools, and an open-floor maintenance unit with two high-performance cranes and extending side walls where track work can be undertaken under cover and fully protected.
After the train has transported the crew, tools and materials to the worksite, the open-floored telescopic working module can be deployed at the push of a button, setting up a fully secured and illuminated worksite where all activities can take place inside the vehicle in a single pass.
The machine is similar to the MMS units which Robel has supplied to Austria, Norway and the Netherlands, as well as Network Rail in the UK and JR East in Japan.
DB Netz intends to trial FIZ in the Köln area, before extending the deployment to other parts of the country. It will be used for closure rail and switch inspection and replacement on turnouts, as well as build-up rail welding and the inspection of track-mounted antennae.
'FIZ gives us the opportunity to provide a modern and safe working environment on the track', said Dr Volker Hentschel, Head of Plant & Maintenance Management at DB Netz, when the machine was handed over in Duisburg on December 19. 'This not only has a positive effect on productivity but also on the higher motivation of our staff.'
Robel Holding Head of Business Development Manuela Ruhland explained that 'the maintenance train changes work processes, increases efficiency and saves costs. However, despite all the economic efficiency, one aspect is of particular importance to us: this train was built for people, for a safe and ergonomic working environment on the track.'
CRRC unveils hydrogen train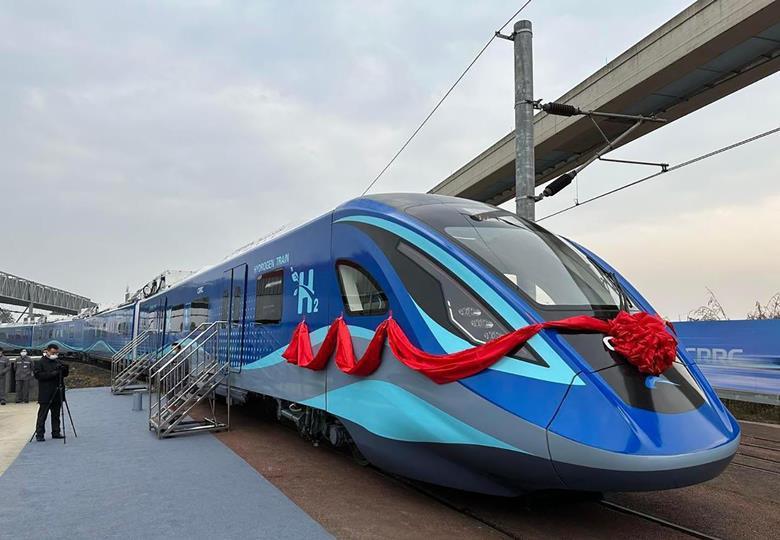 CN: CRRC has unveiled a hydrogen fuel cell powered train designed to enable suburban services to be extended onto non-electrified routes.
The four-car trainset based on CRRC's Fuxing family of designs has been developed jointly by CRRC Changchun and Chengdu Rail Transit, and was rolled out at CRRC's Chengdu factory on December 28.
It combines fuel cells with supercapacitor energy storage to give a maximum speed of 160 km/h and an operational range of 600 km. Onboard sensors and 5G data links enable GoA2 automated operation with a driver in the cab.